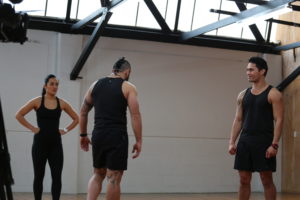 Māori Movement is a unique health and wellbeing programme that brings together the traditional training of the Māori warriors (both male and female) into a modern interpretation.  We base our fitness and movement system around the knowledge of Atua (Māori Gods) to inspire the approach to each movement sequence.
The Māori Movement programme was designed and created by Beez Ngarino Te Waati and supported by Maori Movement Practitioners Kura Te Waati,  Sophie Williams and Edmond Eramiha in conjunction with their advisors.  We have created a series of video lesson plans that explains each movement in detail. We are making the basics of Māori Movement – all Level one video lessons, warm up, cool down and explanatory videos are freely available.  Should you enjoy this, we encourage you to subscribe to Levels Two, Three and the Premier Level of each movement to get the fulll benefits of our program.
We will be offering affiliated licences practitioners for anyone wanting to become a qualified trainer in Māori Movement or run paid classes. If you want to use any of the Māori Movement programs in a paid class, then you must be an affiliate. To find out more about our Affiliate programme click here.
However you can freely use Māori Movement in your own personal practise.
This is the beginning of our journey and we look forward to meeting you a long the way. So be sure to check back regularly or follow our Facebook page for the latest updates.
www.facebook.com/MaoriMovement/ 
Save
Save